Jacqueline Eghrari-Sabet, MD FAAAAI
Dr. Jacqueline Eghrari-Sabet is a double board certified Allergist Immunologist, and has been serving the greater Washington D.C. area for over 30 years. She brings a wealth of experience and expertise to Kaufman Allergy from many career experiences in private practice, academics, research, and telehealth. 
Dr. Eghrari-Sabet received a Bachelor of Arts from Smith College, and her medical degree from New York University School of Medicine. She completed her residency in Pediatrics at Children's National Medical Center in Washington D.C. and completed her fellowship in Allergy and Immunology in a consortium between Children's National Medical Center, the National Institutes of Health, and Walter Reed Army Medical Center. 
She is a Diplomat of the American Board of Allergy and Immunology and the American Board of Pediatrics, and is a Fellow of the American Academy of Allergy, Asthma and Immunology. 
Dr. Eghrari-Sabet has been honored repeatedly as a Top Doctor in Washingtonian Magazine, and has been a repeated recipient of the Top Pediatrician and Top Physician Award.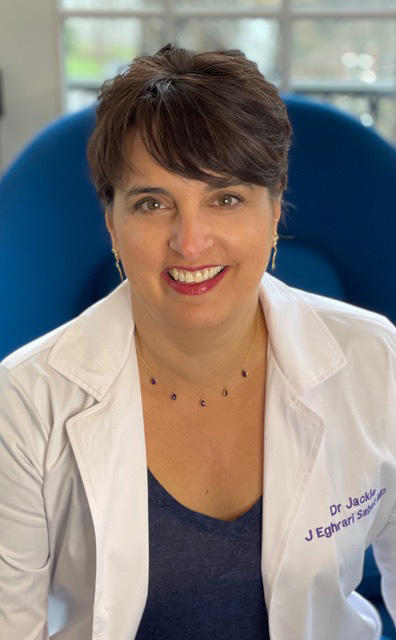 Service to others runs in Dr. Eghrari-Sabet's family! She is a second generation physician, following in the footsteps of her father, a surgeon. Dr. Eghrari-Sabet's youngest son shares his mother's interest in medicine, and is currently finishing medical school.   She comes from a large family of medical doctors, with physician cousins serving communities around the globe – from Brazil to Germany and throughout the U.S. 
Since January 2020, Dr. Eghrari-Sabet has been serving as the Medical Director of Telehealth at the Allergy & Asthma Network, the leading patient advocacy group that improves the lives of millions of patients with allergic and respiratory diseases. Through her dedicated work, Dr. Eghrari-Sabet has implemented telehealth platforms for allergy and asthma patients, including behavioral health services for food allergy, asthma education, and medical telehealth visits. 

Dr. Eghrari-Sabet holds an appointment as a Clinical Assistant Professor at the George Washington University School of Medicine where she develops and implements curriculum educating physicians about digital health and telemedicine. She is passionate about medical education, and serves as a mentor to the next generation of doctors.